Learn more about MultiQuad

Because of the unique design of MultiQuad, the lifespan can extend far beyond that of traditional displays. With modular aluminum frames as the base structure, users can reconfigure in different arrangements to create a completely new display configuration. Ordering new Quads as the finishing touch, can give the exterior of your MultiQuad exhibit an entirely new appearance. MultiQuad owners can utilize our extensive rental collection to add on additional frames, Quads or accessories at any time without incurring the new expense of a new purchase.
Flexible design options
Reconfigurable components
Portable and Modular
Wide array of accessories
Helps lower operating costs
Full inventory of rental components
Towers and walls up to 16'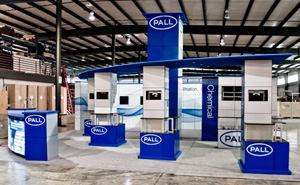 Accessories
Seating
Modular seating available in single seats or benches are not only functional, they're stylish.
Learn more >>
Lockable Storage
Create the perfect spot for storing supplies and personal belongings right within your MultiQuad exhibit.
Learn more >>
Podiums
Available in two styles these portable podiums make the perfect talking station to interact with booth visitors.
Learn more >>
Backlit Graphics
Brighten up your MultiQuad with backlit graphics - perfect for spotlighting your important message.
Learn more >>