Quads now come 200% larger!
At 46" x 46" Jumbo Quads offer fewer reveals & a more custom appearance.
What are Quads?
Quads are precision CNC cut square panels with magnets on the back that attach to the MultiQuad frames to create the finished MultiQuad product. While frames provide the structure, Quads give the finished look. Quads have built-in black reveals on the edges to give a modern look and minimize the gaps and seams due to uneven trade show floors. Quads are not available without reveals.
Available Quad Sizes
Standard Quads are 23" x 23" or Jumbo Quads at 46" x 46". Both are available for the MultiQuad Standard and MAX frames.
Choosing a Quad Size
Sometimes choosing which size Quads to use is a personal preference and sometimes it is a design decision. Jumbo Quads (46" x 46") are ideal for larger displays because they cover a larger area with fewer reveals providing a more custom appearance. But sometimes Standard Quads (23" x 23") are the preference because they give more design flexiblity for interchangeable marketing messages. Either way you go, both offer the same great convenience and ease of setup.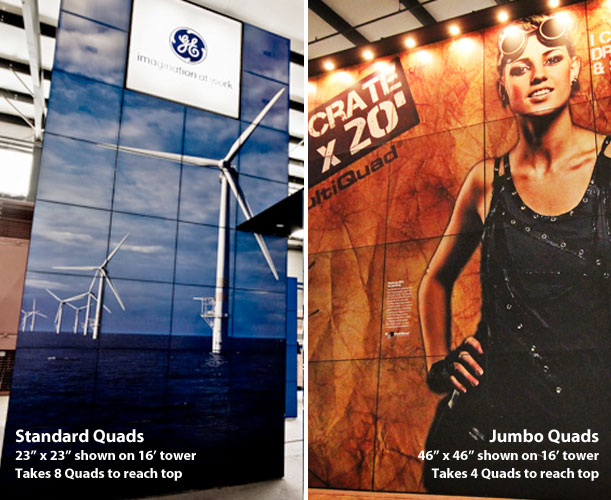 Standard Quad Finishes
Standard Quads include printed colors, wood grains and Velcro-receptive fabrics and dry-erase Quads.
Because of the way Quads are made, there are literally thousands of available finishes. This makes it possible to get virtually any look that you want from MultiQuad. Quads can be solid colors matched to PMS colors, photos, and virtually any pattern or design that can be digitally created. If you can imagine it, it can be a Quad.
Any Color (Pantone Matched), Pattern or Design

ExpoDisplays Exclusive Wood Grain Collection
| | | | |
| --- | --- | --- | --- |
| | | | |
| Cherry | Light Cherry | Dark Oak | Light Maple |
| | | | |
| Natural Maple | Mahogany | Red Mahogany | Walnut |
Non-Standard Quads
Call for availability and pricing on non-standard Quads shown below.
3D Textures
MQ-5.180
Cream Stripes

MQ-5.190 PP
Black Dots

MQ-5.190 SP
Black Stripes

MQ-5.640 PP
Gray Dots

MQ-5.640
Gray Stripes

MQ-5.703 PP
Silver Dots

MQ-5.703 SP
Silver Stripes
Marble
MQ-10.008
Off White

MQ-10.020
White & Gray Speckle
Metallics
MQ-2.050
Metallic Pearl

MQ-2.150
Metallic Brass

MQ-2.250
Metallic Copper

MQ-2.230
Metallic Bronze

MQ-2.602
Sienna Rust

MQ-2.701
Shiny Silver

MQ-2.702
Flat Silver

MQ-2.703
Aluminum Grid

MQ-2.704
Chocolate Brown

MQ-2.705
Medium Latte

MQ-2.708
Taupe

MQ-2.805
Shiny Silver
Textured Metallics
MQ-2.651
Silver

MQ-2.652
Shiny Gold

MQ-2.653
Metallic Green

MQ-2.654
Metallic Blue

MQ-2.655
Silver Charcoal

MQ-2.656
Matte Black
All swatch samples are for representation use only. Colors tints may vary based on monitor settings. Please request an actual proof for a accurate color match.