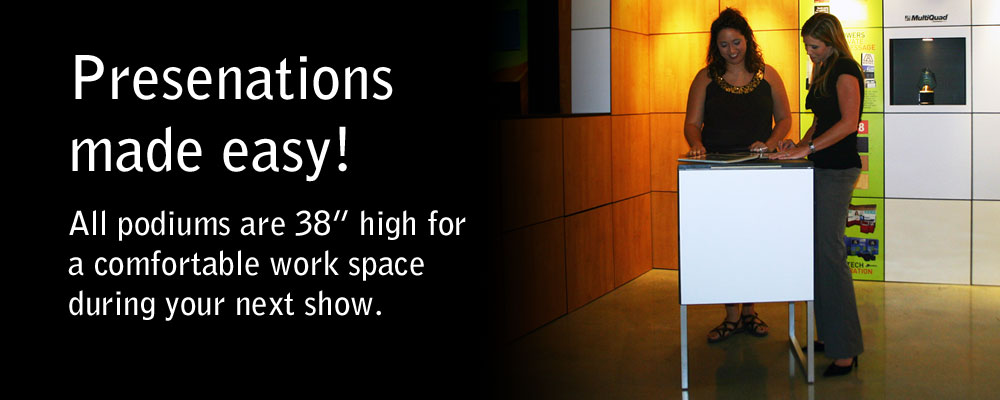 Since the MultiQuad exhibit system is all about flexibility and style diversity, we thought it only fitting to give you some options when selecting your podiums. Choose between two styles, two sizes and then configure them in any arrangement you desire.
A single podium can be used on its own, arranged in an L-shape or pushed together to create a divider wall. With the ease of changing arrangements, mixing options and moving your podiums, your options will never be limited.
Click on a button below to learn more, or simply scroll down the page
| | | | |
| --- | --- | --- | --- |
| | | | |
| POD1 | POD2 | L-Shaped | Locking Storage |
POD1 - The MultiQuad podium with display shelf
The POD1 has a solid base that provides an open top area that is perfect for utilizing as a small shelf for product displays. The podium base can even be uplit to provide nice accent lighting for your product display.
POD2 - The MultiQuad podium with legs
The POD2 offers the same height as a POD1, but alternates the look and feel of the podium, and provides a little extra foot space when standing directly next to the podium for a presentation.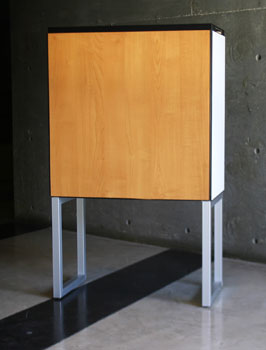 MQ-POD2
A standard size MultiQuad podium with legs.
Rollover image to see alternate view.
Simple Design
PODL1 - The L-Shaped Podium
Maximize the space in the corner of your booth with an L-Shaped podium. L-Shaped podiums are available in either the POD1 or POD2 option, so you can pick what fits your style best.
True Modular Design
The MultiQuad Podiums:
Can be combined with other MQ podiums to create new designs
Are self-supportive so can be used alone or up against a backwall as a cabinet system
Are load bearing—support up to 100 lbs with ease
See how others are using their podiums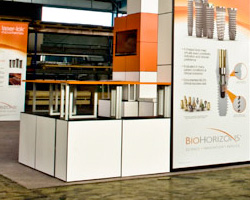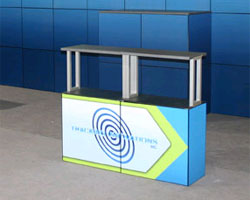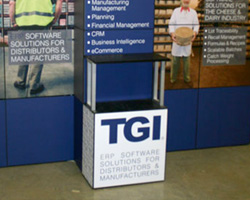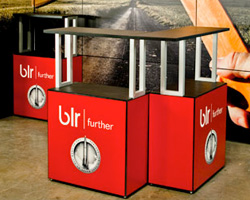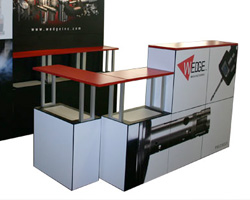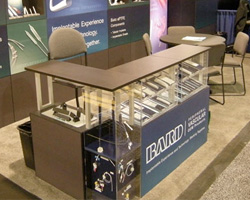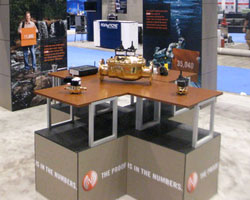 MultiQuad Lockable Podium Upgrade
Are you worried about theft during shows?
With the high cost of replacing electronics, tablets and other devices you need a secure storage solution during shows. With our new Lockable Storage, you can discreetly store your purses, personal belongings, tablets, or show giveaways. Our new lockable storage units come in Max and Standard depths. They are more versatile than ever, fitting within several podium styles or within the wall of your exhibit itself. Keep your items conveniently secured.
Triple Podium with Locking Storage
Combine multiple podiums together as needed and maximize your storage options with lockable storage in each.
See Podium Packing in Action
Get a better understanding of how the podium is constructed and packed with this quick animation.
MultiQuad® Exhibit System. — All rights reserved, 2012. top

A Birmingham Web Design Company